Established in the year 2012, the beginning of Anushree Reddy's creations was an inevitable
revival of the legacy of heritage craftsmanship. Enunciated by sensual colours, delicate handcrafted
three-dimensional appliqué fleur, butterflies, leaves and fictional characters, the brand showcases a
unique perception of its own identity, while creating pieces that have been
revered by its clientele spread extensively across India.
'I create what I believe in'
Designer Anushree Reddy as she marks 10 years in fashion.
A designer with an eponymous legacy that commenced over 10 years ago, Anushree Reddy is redefining the course of Indian fashion with a fresh and young vision of the traditional wardrobe.
An MBA Graduate from Cardiff University, Anushree Reddy acknowledged her eye for fashion during the initial years of her position as a fashion editor and stylist. Counting a few years ahead, she altered the very course of customary garbs.
A glimpse into
Anushree Reddy's first collection
It was for the Lakme Fashion Week Summer Resort 2013, where I was
debuting with my bridal collection. I had a line-up of 2 outfits which
included saris, anarkalis, lehengas, and flowy jackets in whites and
washed-out pinks with a touch of vintage rose prints.

I drew inspiration from the old-school romantic vibe, hence the dull
vintage shades to go traditional. I paired it up with Chantilly lace with
Nizami zardosi. Being from Hyderabad, I've grown up with these rich
embroideries around me, and this is where I draw my roots from.
I worked with karigars whose families have been specializing in Nizami
zardosi for over 100 years.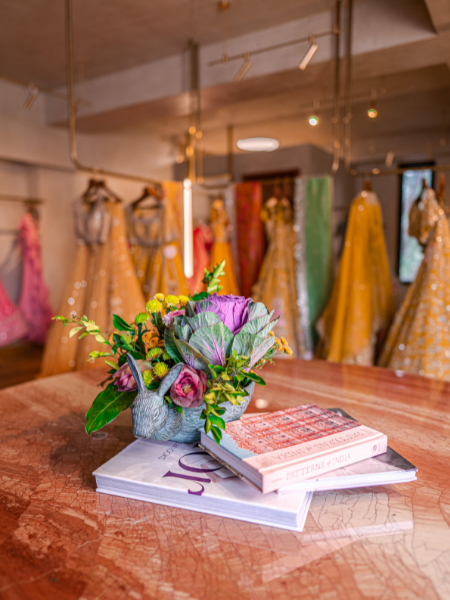 An ode to beautiful things, unarchiving moments of compositions, craft and creativity behind the ensembles.
"No one can whistle a symphony. It takes a whole orchestra to play it."
Creating something exceptional takes a shift of roles and responsibilities. We are grateful to have a team that stands through thick and thin beside the label with endeavour,patience, skill and imagination.
Anushree Reddy's timless creations can be previewed and purchased at her iconic flagship store in Hyderabad , at
Bougainvillea'14, in banjara hills. her creations are also well displayed on website such as Aza fashions, ensemble and ogaan.